Cruising Alaska by Land and Sea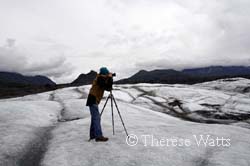 Going to Alaska by land or sea is always a special treat. Here you will certainly see surprising and beautiful wonders of nature at almost every turn. This gallery contains photos from common cruise ship stops, and various land excursions in Alaska or Western Canada. Each cruise stop gives a brief account of the area and things to do. Enjoy these images and the cruising advice in each gallery to help you plan your trip or just reminisce.
All photographs are available for purchase.
Select an Alaska or Canada Gallery to Enter
To enter a gallery, click on the gallery title or thumbnail . Once you enter a gallery, you will be presented with multiple thumbnail images of the gallery contents. By clicking on any gallery thumbnail, you will be presented with an enlarged view of the image. Readily available sizes and pricing is found below each enlarged image. To make a purchase, simply add an item to your cart. Ebay's PayPal actually transacts all of the purchases on this site, so you can rest assured that your credit card information, etc., will be treated with utmost security. However, if you do not wish to use the shopping cart, you can call (904)563-2907 with your order and credit card information. If you are interested in a size not shown or you have other questions about our photographs, please email reid@wattsphoto.com